What NLnet can do for you
The NLnet foundation is financially independent and is free to fund any activity that contributes to its mission, in whatever way it chooses. That opens many opportunities, some of which are mentioned on this page. If you have a creative or inspiring idea that does not fall under any of the categories below, and you believe NLnet should help you: just contact us.
Of course money is not the only type of support NLnet can provide. The foundation, and the people behind it, have a global network of potential partners, projects, and experts which can be of use to achieving your goals. When we support you, we don't sit back: we actively try to help you get results. NLnet serves the public interest through your energy and labor, and we are passionate about that. You can expect us to be a professional partner, with low overhead. It's all about helping you get the most out of your ideas.
Microgrants
The prefered intstrument of NLnet are microgrants: small, independent projects supporting independent researchers and developers. NLnet can fund or co-fund various types of projects, such as software development or standards efforts. NLnet does not require so called 'matching' for projects and may decide to fund 100% of your project. For smaller projects there is a fast procedure which could have your project up and running in 6-9 weeks.
(If NLnet is unable to help you, there may be organisations and programmes outside of NLnet that can help)
What you can do for NLnet
You can really help us without spending any money, by helping us defend open source projects. It takes just five minutes of your time.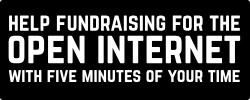 This page will tell you how you can help
[English ] [Espanol] [Nederlands]
If you have great ideas: get us involved. Even if we don't have the money, we might be able to help you get nearer money elsewhere.
If you like the work of NLnet foundation and the way we operate, and you have some money you can spare: your donations are extremely welcome (donate online now). We accept cash, cryptocurrencies, etc - tell us what works for you.
We give out money to those who can really make a difference, and we really care. If you are thinking about donating a large sum, or putting us in your will: contact us for doing this in the smartest way. NLnet is a recognised public benefit organisation (ANBI), and as such we are probably the most efficient way to allocate your money to the open internet.
Still interested? Listen to these good people as they convince you to about the difference NLnet makes