NGI0 Speaker bureau
Invite our experts to your event
Are you interested in bringing the next generation internet to your event? Fill in the form below to invite a speaker. For info on how the speaker bureau works, see frequently asked questions below the form. NGI Zero's mission is to contribute to a open, resilient, human-centered internet for all by supporting the development of free/libre/open source software and hardware, open standards and open data. We're a consortium of not-for-profit organisations, each with a specific area of expertise to make the digital commons more robust. The NGI0 speaker bureau liaises to bring these experts to your event.
FSFE Legal Education Workshop
In addition to speakers the
Free Software Foundation Europe
also offers the Legal Education Workshop to learn about Free Software from a legal perspective. We'll tell you more about this in
the section
below the speakers.
Experts in our network:
Cyber security / Post growth entrepreneurship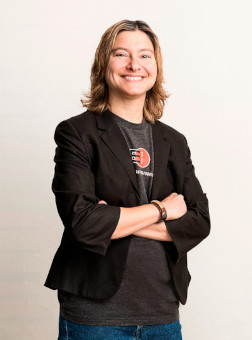 Melanie Rieback
CEO and co-founder of Radically Open Security
Dr. Melanie Rieback is CEO/Co-founder of Radically Open Security (the world's first not-for-profit computer security company), and "Post Growth" startup incubator Nonprofit Ventures.
Read on ...

She is also a former Assistant Professor of Computer Science at the Free University of Amsterdam. She was named "Most Innovative IT Leader of the Netherlands" by CIO Magazine (TIM Award) in 2017, and one of the "9 Most Innovative Women in the European Union" (EU Women Innovators Prize) in 2019. She is also one of the 400 most successful women in the Netherlands by Viva Magazine (Viva400) in 2010 and 2017, and one of the fifty most inspiring women in tech (Inspiring Fifty Netherlands) in 2016, 2017, and 2019. Her company, Radically Open Security was named the 50th Most Innovative SME by the Dutch Chamber of Commerce (MKB Innovatie Top 100) in 2016.
Radically Open Security
Radically Open Security prides itself on being the world's first not-for-profit computer security consultancy company.
Read on ...

ROS is prototyping an innovative new business model to provide a commercial front-end that sends 100% of our profits tax-free to a charitable foundation (NLnet foundation). Our low management/overhead costs mean we can afford to pay competitive wages to our computer security consultants. ROS is "hacking a new business model" for prototyping an ideal company – one that optimizes for benefit to the world (customers, employees, society) as opposed to profit motive (shareholders, investors, founders). Their hope is that, in a few years from now, we might inspire others to setup similar sustainable "not for profit businesses" in other industries.
Travels from:
Melanie is based out of Amsterdam but has given on site presentations in for instance Europe, North-America and Africa.
Security / Privacy / Standards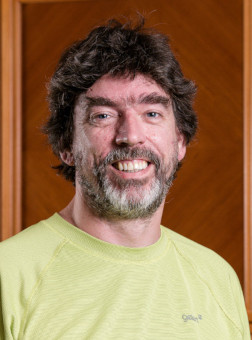 Stephen Farrell
CEO and co-founder of Tolerant Networks
Dr. Stephen Farrell is co-founder of Tolerant Networks and a research fellow in the Distributed Systems Group of the School of Computer Science and Statistics at Trinity College Dublin.
Read on ...

At Trinity College Stephen teaches and researches on security and delay/disruption-tolerant networking (DTN). In 2006 he co-authored the first book on the latter topic. Stephen has been involved in Internet standards for more than a decade and has been an IETF security area director for six years. Prior to returning to academia in 2002, Stephen had 15 years experience in industry, working for Siemens and Baltimore Technologies amongst others.
Tolerant Networks
Tolerant Networks Limited (a Trinity College Dublin campus company) works on Internet security and privacy.
Read on ...

Tolerant Networks was founded in April 2010 by Stephen Farrell and Kerry Hartnett. The company was spun out of an EU FP7 funded project called N4C in which we used Delay Tolerant Networking (DTN) to enable Internet-like communications in very remote communities. It has successfully completed a range of projects in the area of DTN deployment, educational DTN projects and DTN usage for the European Space Agency. Tolerant Networks is a a Trinity College Dublin campus company.
Travels from:
Dublin, Ireland.
Legal and licensing topics relating to Free Software
Gabriel Ku Wei Bin
Legal Programme Manager at the Free Software Foundation Europe
Gabriel is a Legal Programme Manager at the FSFE. Originally from Singapore, Gabriel is a former human rights and constitutional law researcher, as well as a former commercial lawyer.
Read on ...

At the FSFE, Gabriel manages the FSFE's legal projects, including its involvement in a number of European Commission funded projects, including the NGI0 projects. Additionally, Gabriel administers the FSFE's Legal Network of lawyers around the world involved in Free Software, in order to to promote discussion and foster better knowledge of the legal constructs that back Free Software.
In addition to the topic mentioned above, Gabriel also speaks aboutHow Free Software supports Human Rights
Free Software Foundation Europe
The Free Software Foundation Europe is a charity that empowers users to control technology.
Read on ...

Software is deeply involved in all aspects of our lives, and it is important that this technology empowers rather than restricts us. Free Software gives everybody the rights to use, understand, adapt, and share software. These rights help support other fundamental freedoms like freedom of speech, press, and privacy.
The FSFE helps individuals and organisations to understand how Free Software contributes to freedom, transparency, and self-determination. It enhances users' rights by abolishing barriers to Free Software adoption, encouraging people to use and develop Free Software, and providing resources to enable everyone to further promote Free Software in Europe.
Travels from:
Berlin, Germany
FSFE Legal Education Workshop
The Legal Education Workshop of the
FSFE
features talks on legal topics relating to Free Software, as well as a workshop to facilitate a better understanding of these legal frameworks and compliances. The talks will explain basic legal concepts such as licenses, copyright law, and its practical application into your projects with the FSFE's REUSE initiative, as well as other legal topics important for developers and the Free Software community in general.
Free Software grants users and developers the essential freedoms to construct a healthy and open digital ecosystem. To preserve and guarantee the continued enjoyment of those freedoms, it is important to understand and comply with the legal framework which safeguards our software projects from potential legal threats and also makes sure they reach their full potential.
Understanding the legal matters and complying with legal obligations can become a burden sometimes. That is the reason why the FSFE organizes the Legal Education Workshop. It's aim is to spread basic legal education on the legal context of Free Software, so that licensing your project, understanding copyright, and meeting legal obligations in your software project will be less of a daunting task!
Request to host the workshop
The workshop is developed by Lucas Lasota (
lucas.lasota@fsfe.org
) and Gabriel Ku Wei Bin (
gabriel.ku@fsfe.org
). If you are interested in hosting a Legal Education Workshop fill in the form below or contact the speakers directly. The full workshop takes four hours. But it is also possible to request a more condensed version that takes less time. If you want to know what to expect, here is a video of a previous edition of
Legal Education Day at SFSCON 2022
. For more information about Free Software Licensing check the FSFE's
Frequently Asked Questions
page of the FSFE.
Frequently Asked Questions
What is the purpose of the speaker bureau?
Part of NGI0's mission is to share knowledge about the digital commons. We've established the speaker bureau for people who want to bring this knowledge to their event.
Is a speaker fee required?
No, it's not required. You can send in a speaker request if you don't have budget for a speaker fee. But if you do have a budget we'd appreciate compensation for the time the speakers are putting in.
Will my requested speaker definitely say yes?
No. We will relay your request but like most mortals our speakers do not have an unlimited time supply. So they'll have to make choices on what to spend it on.
What is the role of the speaker bureau?
We're a one-stop-shop where you can put in your requests for speakers. We'll ask the speaker on your behalf. If they say yes, we'll connect you to each other. That's where our role ends.
I don't know which speaker to ask, can I ask for advice?
Yes, of course.
---